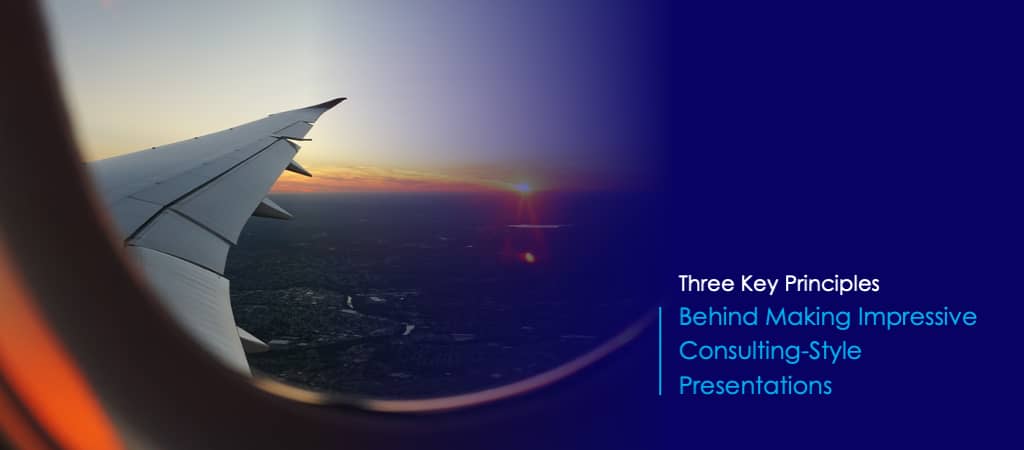 "How do I make my presentations 'speak' to the investor?"
Working with startups, this is a question that we get asked frequently. Startups are driven by the need to impress, persuade, and eventually have a successful outcome in the form of funding or an investor meeting.
The first time I encountered the power of presentations was in 2005. That's when I realized how much I loved creating presentations where excellent design and informative content come together flawlessly.
In my previous life, I worked in a well-known management consulting and research firm. I was there for a decade, working crazy hours, analyzing, ideating, and working on research reports. Among all the things that took a large chunk of my time was presentation design.
Ever wondered why management consulting presentations are the gold standard? What makes them pop out among the millions of other presentations?
In those ten years at the consulting firm, I had talked to partners, research directors, management consultants, and numerous other people who make a management consulting firm what it is. They all had different roles, but with one common trait - they were all strategists.
A management consultant approaches presentations uniquely. Their goal is to project the biggest value in the shortest time. This helps keep presentations focused on solving the problem at hand with crisp, light messaging and persuasive with facts. My stint and interactions at the management consulting firm taught me all about consulting-style presentations that are emulated all over the world.
Here, I share three of the most enduring principles that form part of the secret sauce behind those mind-blowing presentations from the consulting world.
The Pyramid Principle:
to structure for impactful storytelling
"The great value of the technique is that it forces you to pull out of your head information that you weren't aware was there, and then helps you to develop and shape it until the thinking is crystal clear. Until you do that, you can't make good decisions on slides or video."
The Pyramid Principle is an oft-proven method to craft a compelling story that will pass an elevator pitch test making it perfect for time-crunched investors. First defined by Barbara Minto of McKinsey, the Pyramid Principle suggests structuring the presentation so that the key message is right on top. Start your presentation by answering the problem and then follow up with data that logically support that answer. A typical investor pitch based on the Pyramid Principle will look like this -
Bottom line or answer
the XYZ app is an incredibly important app for people with diabetes
Supporting data or information
the XYZ app is useful because of reason 1, reason 2, reason 3.
Key message summary
the XYZ app makes it easier to manage diabetes.
This line of thought, when paired with the MECE principle, would make a doubly compelling case.
The MECE Principle:
to make your presentation persuasive
"In the case of all things which have several parts and in which the totality is not, as it were, a mere heap, but the whole is something besides the parts."
Mutually Exclusive and Collectively Exhaustive (MECE) is a way of grouping vast blocks of information into different buckets for easy consumption and retention. Again, developed by Minto the method is based on Aristotle's philosophy that a comprehensive picture can be made only by joining different parts. Applying the MECE principle to your presentation makes it
Clean
Intuitive
Increases clarity
Raises comprehension levels
The MECE framework helps break down information into categories and subcategories to make your argument persuasive to the maximum.
For example, using the MECE framework to show the XYZ app's scalability or its income models would mean listing revenue generation as a broad category, followed by the number of ways to reduce cost under that.
The KISS principle:
to make the presentation visually arresting
"My mantra is that it takes the same amount of time to present five ideas on one slide as it does to present one idea on each of five slides."
One of my biggest influences has been Gene Zelazny's book "Say It With Charts." Zelazny, who is the Director of Visual Communications at McKinsey, reveals that one of the biggest challenges behind presentations is to keep it simple.
His driving force is the KISS principle, which simply says Keep It Short and Simple. Allowing the audience to absorb the maximum information in the shortest time with the aid of intuitive design. Some of the components in the KISS framework include bullet points, images and illustrations, visual representation with charts, and large fonts.
Working in a management consulting firm helped me realize that presentations are like mini novellas. They need to engage and hold the reader's attention till the very end to be successful. They,
Act as thought-starters
Give actionable plans
Present the entire journey of a problem to solution without overwhelming the audience
Persuade the reader to take the next step
Above all, it taught me the power of simple yet effective communication and crisp messaging. It is what makes investors take a chance on you. It is what gets you the next meeting for possible funding. A presentation that impresses is one that makes dreams a reality.
Nitin Mahajan is an entrepreneur, strategist, and presentation consultant. He is the voice behind this website and, of course, Qcept. Nitin lives and breathes presentations and his mission is to help businesses grow through quality communication and content.
Getting funded is a big milestone for a startup. Reaching that milestone involves multiple steps including a well-crafted pitch deck. An increasing number of startups are now reaching out to presentation consultancies to manage their pitch decks.
The importance of storytelling in pitch decks is often underestimated. It pulls in your audience and creates an emotional connection, which is crucial.