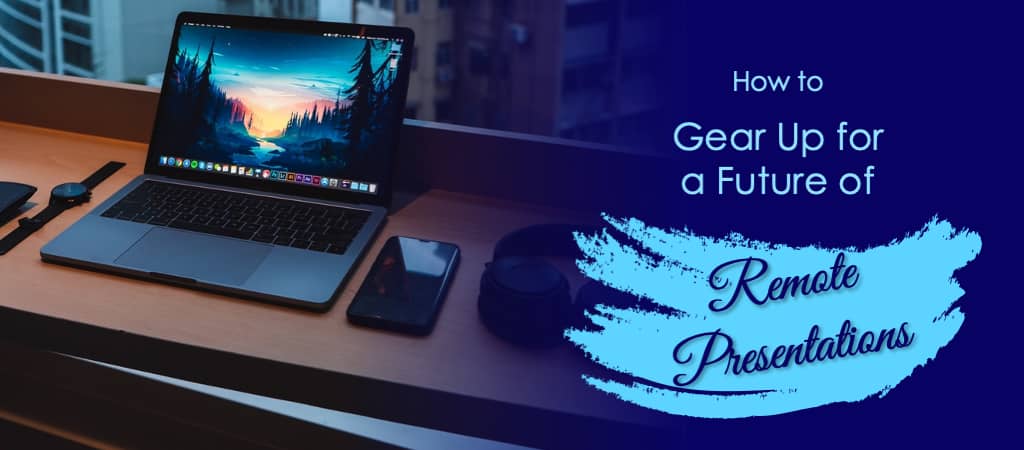 The Covid-19 outbreak has forced many organizations to cancel or reschedule their public events causing much uncertainty. Businesses have begun to realize that there is a high chance of these events not occurring with regularity and attendance might be insufficient even if they do.
The pandemic has impacted sales functions the most with an overall decline of 37%, according to a CIO India survey. Traditionally, sales and lead generation have always been built on face-to-face meetings. Successful agreements and deals were arrived at based on trust and understanding built through in-person meetings.
Meeting prospects in person is beneficial because the chances of miscommunication are lower and reading the body language makes it easier to build a strong rapport.
That said, remote presentations, when done right, can lead to solid long-term relationships and business deals too.
Remote presentations have their benefits
Remote meetings are wired (no pun intended) differently compared to real ones and often carry the general perception of being less effective, particularly when it comes to sales, due to their emotionally distant nature.
But presenting remotely has its benefits:
It's inexpensive. There are no commuting costs, shared workspace fees, or the need for any additional equipment
It's inclusive. Face-to-face meetings can be limited in scope due to location constraints, which disappear in remote presentations
It's flexible. You can present or meet with people without the need to travel, which means more flexibility with time especially when working with teams across the globe
"Working remotely has the potential to add US$ 2.6 trillion to the US economy alone"

Center for Economics and Business Research Study, 2019
Remote presentations are here to stay
The Covid-19 crisis has forced businesses to turn digital and organizations have responded with agility, rejigging their sales processes by organizing webinars, online meetings, remote sales presentations and setting up online workshops.
"The world has definitely changed. And remote work may in fact be the new normal. Companies that embrace the change and build a culture around it in which their employees are empowered with the tools, confidence and trust they need to adapt can weather these tough times and position themselves to thrive when better days return."

Donna Kimmel, Chief People Officer, Citrix
As more businesses undergo shapeshifting changes, embracing more of the digital workspace how are you going to stand out?
Adapting yourself to present remotely
Adapting to a new normal made up of digital networking and virtual presentations means a tectonic shift in your approach. It means reworking your processes and adapting to entirely new mediums and ways of conducting business.
Remote presentations can be dealmakers if you use your resources to their maximum potential and plan the meeting well in advance. The biggest challenge during remote presentations is keeping your audience captivated through its duration. If you are not able to engage and hold your audience's attention right from start to finish, then you have not been effective enough.
To accomplish that, it is important that you set up and prepare for the upcoming meeting methodically covering all aspects. That includes:
Keeping the tech smooth - choose an easily accessible platform (

Microsoft Teams

, Zoom, Google Meet, Webex, GoToMeeting, etc.), test the audio and video beforehand, and finish software updates well before the meeting. Following these small but significant steps considerably enhances the effectiveness of your presentation.
Perfecting the content - includes having clear presentation goals, audience-focused messaging, and a definitive call-to-action among others.
Packaging it all together - visualizing the content with good presentation design makes it easy for the audience to catch the flow of your thoughts. This will ensure higher engagement and interest.
Refining the delivery - be mindful of details like your appearance and body language. Locate yourself in a distraction-free environment. Mute your microphone when not speaking to show you are listening closely. Adhering to online etiquette such as these make the presentation more impactful, leaving a positive impression on the audience.
Following up - perfecting your follow-up strategy will strengthen your case further and bolster your brand recall.
Virtual meetings and remote presentations may never have the wholesome impact that a face-to-face meeting has but they can be powerful when planned with care.
Check out our post where we share strategies on how to ace your remote presentations!
Sales teams are redefining their approach and adapting to a remote way of working. See how you can embrace a digital transformation with our four-step strategy to getting remote sales right.
Getting key messages across to the audience effectively and efficiently is the prime focus of a killer presentation. Are you connecting with your audience?