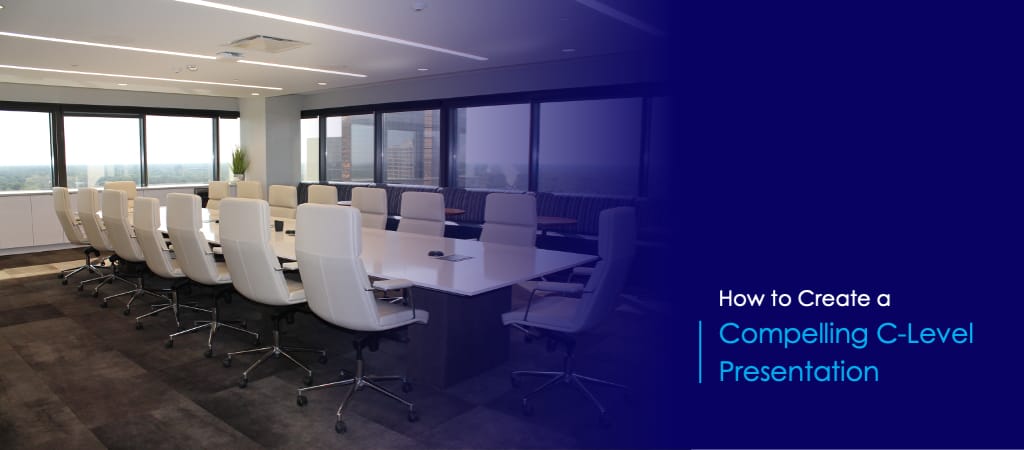 "Your team understood the needs (of our client) and produced collaterals that were professional, balanced, and delivered the key messages without going overboard."
Although this was a few years ago, I always remember and cherish these words of praise from one of our C-level (titles typically beginning with 'C' - Chief Executive Officer, Chief Operation Officer etc.) clients of the management consulting firm I was working for. Coming from him, it certainly meant a lot because I knew the effort it took to design a presentation for them.
When I first began designing presentations, I found myself learning the ropes quite quickly. The primary concepts behind creating impactful presentations – telling a story, crisp messaging, visually appealing design – flowed naturally to me.
But I quickly realized that working on senior executive level presentations was a different ball game altogether. The clients always had processes in place, clear objectives, and tight timelines. The biggest challenge was to connect with the target executives through the presentation within an extremely short time.
The rules for crafting a C-level presentation are very different and require a considerable amount of thought, strategy, and effort. It is always about quality and not volume – the right information over maximum data.
Working on my first senior leadership presentation was utterly chaotic and nerve-racking. As they would be. It got better after that, and when I received this feedback, I knew I had progressed.
After working on countless executive presentations and interacting with numerous top-level leaders, I have arrived at my own roadmap of designing them effectively and efficiently.
The four cornerstones of a successful presentation hinge on:
making the conclusion your introduction
anticipating every single question
being ready with short and long versions
creating an impactful summary.
I just wish I had known these earlier and avoided much grief!
Make the Conclusion
Your Introduction
"We found that, indeed, time is the scarcest resource."

Michael Porter, a Harvard professor, tells CNBC describing a study he spearheaded on "How CEOs Manage Time."
Porter's study found that 75% of a CEO's time was taken up well in advance illustrating just how little time executives have when it comes to meetings and presentations. The learning? Make presentations slim enough to fit into their narrow time slots.
Skip the storytelling and bump up the concluding points to your introduction to establish the point of the meeting right away. It's imperative to get straight to the point when presenting to time-crunched executives by telling them the whys and the hows upfront with supporting information. That means you would need to do an enormous amount of work filtering the information down to just the right amount.
"In our debriefs, CEOs confessed that one-hour meetings could often be cut to 30 or even 15 minutes," says Porter. Your presentation should be able to convey everything the CEO needs to know within the first five minutes as there are bound to be questions.
Pro tip – Begin working backwards on the presentation in an inverted pyramid fashion. Start with the goal, the end results, and find the data to support it.
Anticipate Questions and
Interruptions
Senior-level executives are an impatient lot. They process information in seconds and form mental maps of a situation as soon as five minutes into the presentation. They are always ahead of the presenter, and that's bound to bring up questions and interruptions.
It is extremely important to ask multiple questions from an executive's point of view while designing the presentation.
"What will she not like in this slide?"
"Is there ambiguity in this data?"
"Is the reasoning supported with facts?"
Anticipating questions will also reduce the number of interruptions that are bound to happen.
Knowing the answers to these questions with complete clarity helps provide informed answers transforming even unexpected discussions into productive ones, and leaving a positive impression.
Pro tip – At every sentence or illustration in the slide, pause to ask "so what?" That's a recurring question that senior-level executives ask themselves as well as the presenter. Bake the answers into the presentation for every "so what?" and you have a comprehensive, convincing deck.
Prepare the Short and
Long Versions
Even if the slot for the meeting says "12:30-1:30" senior-level meetings are very unpredictable. Five minutes into the meeting, the key decision-maker could get called away on urgent matters. Although the meeting might continue as planned with the rest of the team, the senior executive would want to go through the deck.
Prepare a scan-friendly version, which packs the most important information in less than ten slides. Highlight a 'takeaway' at the end of each slide summarizing the information on it. This is the short version. The longer, more detailed document should have more data that supports the goal of the presentation and beef up the benefits. This is the drill-down data the executive will reach for when the shorter version has suitably convinced them.
Pro tip – Try talking to other members in the senior leader's team to determine their preferences and understand particular pain points. Knowing these will keep the presentation tailored to the last detail.
End With a Persuasive
Summary
A C-level presentation does not end merely with Q&As to be forgotten after everybody disperses. Senior leaders are always looking for results, and at the end of the presentation, they need to know what's next. They need practical call-to-action points they can implement.
The information in the deck should fall into three primary buckets – objectives, benefits, and next steps. The summary gives a composite picture of all the three sections with emphasis on what the audience should do.
"Presentations are about objectives, benefits, and actions."

says Intel's former Chief Learning Officer to FastCompany

Ending powerfully with repeated emphasis on the benefits prompts the audience to take concrete steps, which delivers the results that leaders seek.
Pro tip – Draw examples from their business history and give solutions by comparing the effectiveness to their biggest competitors. Shape the presentation to 'speak' to the specific crowd you are addressing by knowing their personality traits. In effect, this presentation is like an exclusive book that makes sense only to your specific audience.
After that stressful experience the first time, I worked on numerous senior leadership presentations in the last ten years. With each one, I learnt something new and gained more confidence. Today, I find designing C-level presentations an exciting challenge. But more than anything, there's something deeply satisfying in the knowledge that I am making not just my clients happy but their customers too. Like a double scoop of ice cream!
Nitin Mahajan is an entrepreneur, strategist, and presentation consultant. He is the voice behind this website and, of course, Qcept. Nitin lives and breathes presentations and his mission is to help businesses grow through quality communication and content.
Getting funded is a big milestone for a startup. Reaching that milestone involves multiple steps including a well-crafted pitch deck. An increasing number of startups are now reaching out to presentation consultancies to manage their pitch decks.
Curious why management consulting presentations are so distinguishable? Apart from a very fresh approach, consultants employ a few strategies that help make every slide stand a class apart. Our founder, Nitin Mahajan lets you in on some of the secrets behind making management consultancy-style presentations.