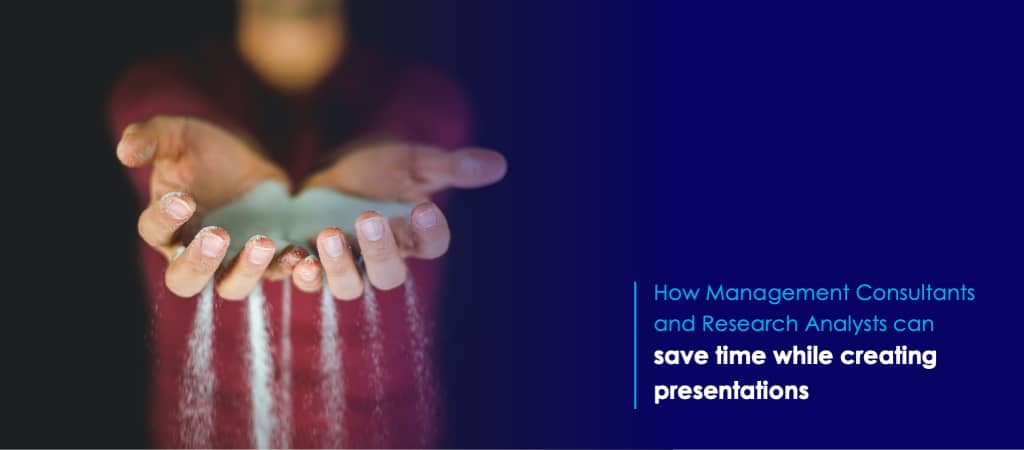 It's late in the night. I am working round-the-clock (literally) to finish a presentation for a client. He needed the deck to present to his client, but he didn't have the time to build it, create the storyline or design the flow.
In addition to making the presentation for him, we were also working on a template. Going forward, he could easily use it to make his presentations within minutes. It would make his processes lean and agile.
I paused when this thought came to my mind. Lean, automation and agile are three of the hottest buzzwords that refuse to fade away. Why? Because they drive transformation. And transformation is constant. Agility needs to be wired into the way you work. It creates content that wows audiences in the shortest time possible. The more I thought about it, the more I was convinced that I needed to write a post about it. So, here I am!
I did not start my career as a presentation strategist and consultant by writing or designing presentations. I started with formatting. As trivial as it sounds, formatting design elements, chart alignment etc. to keep them consistent are vital to creating jaw-dropping presentations. But formatting takes considerable time, and management consultants are extremely short of it.
In my previous avatar, to help consultants reduce their efforts, my team and I put together handy PowerPoint templates and style guides for quick referral. Over the years, as our workload increased, I continued to work with efficiency by incorporating automation and agility into presentation designing.
During this time, I also observed the changes taking place in the presentation universe. One that made the most impact was attention spans narrowing more and more. People were more crunched for time and content needed to adapt. Presentations now contained lesser slides communicating information with sharper focus.
As I evolved into a presentation strategist, I had to keep reinventing my methods too. Building templates, creating a database of frequently used tools or software, and continually updating myself were a few of the things I implemented to keep up with these changes.
Here, I have picked five of the most efficient 'shortcuts' we implemented for creating those scintillating presentations in no time.
Build corporate
PowerPoint templates
Every presentation needs to introduce the company to the audience. Since most of the information stays the same, why not reuse these slides? And while you are at it, why not make the design consistent and get the formatting done once and for all? Setting up standard slide templates with the desired fonts, colors, and other frequently used elements save a considerable amount of effort on picking styles and making presentations consistent with brand guidelines each time. Once set in place, you only need to do text updates to reflect team or product changes.
40% of the time taken for making presentations is spent on formatting alone*
Find yourself telling the same information in different presentations? Common slides usually comprise up to 70% of your presentation many times. Prepare for future presentations by creating a slide library. Universal slides about the company, sales packages, and pricing information that usually don't require updates, for example, would go into this. They save you time in opening up multiple presentations for copy-pasting slides each time. A slide repository will also contain frequently used elements like charts, graphics, shapes, icons, etc. that can be easily incorporated into various presentations.
78% of presentations are made using existing slides*
Have custom
PowerPoint add-ins
Let's face it. Brand guidelines can be complicated. In the thick of making complex presentations, it's easy to miss putting the right font or the correct logo variation. Using add-ins solves that problem and helps create brand-compliant, outstanding presentations in half the time. They make presentations visually cohesive and make the entire process far less challenging. Typically, add-ins should help automate colors, sizes, fonts, and other important dimensions or attributes that make your brand unique.
Provide access to
a presentation strategist
With competition only getting fiercer, it's wiser to have a presentation consultant and strategist at hand, either in-house or outsourced. A presentation consultant helps you through the ideation, strategy, and data visualization aspects to make your messaging on point. User needs are constantly changing and information needs to adapt. Packaging data using strong storytelling, visuals, and other easily consumable formats is imperative to ensure strong recall. A strategist will have both the business sense as well as the tools at hand to fast forward the presentation building process without compromising on quality.
Hold comprehensive
presentation training sessions
Your audience is constantly changing in their thoughts and outlook. This requires you to keep up with them all the time. Book yourself into communication workshops and presentation building training modules for updating yourself with the latest tools and strategies. These sessions tell you new and improved ways to build and engage with a story, be a persuasive communicator through text and design, and communicate with maximum efficiency. Above all, they will teach you to use PowerPoint and associated add-ins or tools more effectively to bake in automation into your processes to save time. Presentation design, like any other field, is always evolving, and your learning can never stop.
40% of employees have only basic knowledge of PowerPoint*
Each presentation is unique, but all of them need to inspire action. We hope you can elevate your presentation skills with these simple, easily implementable tips. A small investment, in the beginning, to put these systems in place goes a long way, as you will discover.
*Statistics from The Big PowerPoint Study, 2014
Nitin Mahajan is an entrepreneur, strategist, and presentation consultant. He is the voice behind this website and, of course, Qcept. Nitin lives and breathes presentations and his mission is to help businesses grow through quality communication and content.
Curious why management consulting presentations are so distinguishable? Apart from a very fresh approach, consultants employ a few strategies that help make every slide stand a class apart. Our founder, Nitin Mahajan lets you in on some of the secrets behind making management consultancy-style presentations.
Getting funded is a big milestone for a startup. Reaching that milestone involves multiple steps including a well-crafted pitch deck. An increasing number of startups are now reaching out to presentation consultancies to manage their pitch decks.