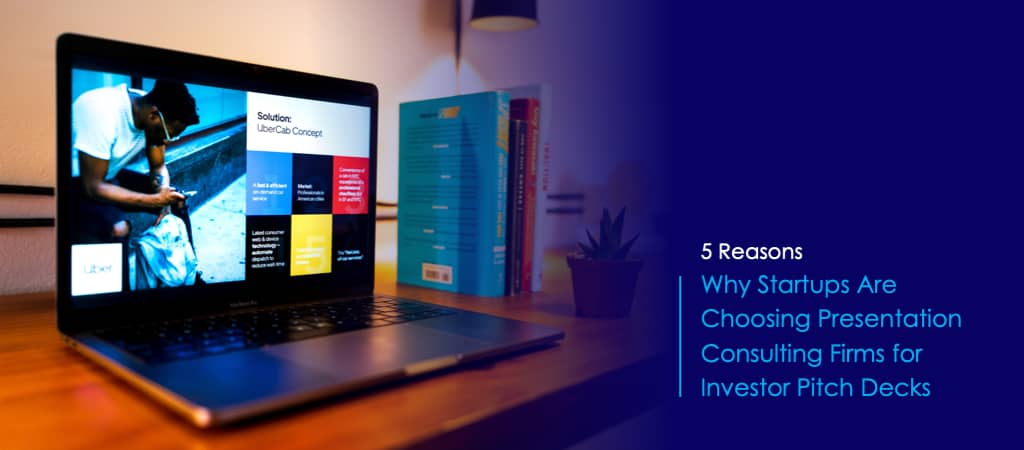 No matter the industry, every startup has a common goal – to get funded. Every year, angel investors and venture capitalists are flooded with an overwhelming number of startups to pick from.
In India alone, the number of startups went up from 7,000 to over 50,000 between 2008 and 2018, as per a KPMG report. But
Only 0.62% of (global) startups manage to raise VC funding
So, how do they manage to get into that rarefied band of startups who get funded?
With a persuasive pitch deck that gets meetings.
A pitch deck is synonymous with the startup, its unique voice, and personality. Every single slide is an important part of the startup's complete picture that VCs see.
We have been observing the recent shift in thinking where founders are increasingly reaching out to presentation consulting firms to put together powerful investor pitches.
What is causing this paradigm shift? Why are founders moving away from self-designing their pitch decks?
Here are a few reasons based on our in-depth interactions with founders.
Founders are focused
on building a business
Improving the communication strategy on a pitch deck can take up an inordinate amount of time. Time that takes founders away from the problem they are trying to solve, the very reason for building their startup. Founders are keener on fine-tuning their product and designing a lean, agile business model. In short, founders need to be more focused on building a fundable startup and not on explaining the business.
Competition among startups
is fiercer than ever
The India Venture Capital Report 2020 from Bain & Company shows that India ranks among the top five startup ecosystems in the world, with the number of startups growing by 17% between 2012 and 2019. That means every startup is looking for that X factor that makes them stand out from the rest. Founders need that fresh twist to their pitch deck, which gives them a big competitive edge by effectively highlighting their strengths and unique, go-to-market values. Generation Y is more inclined in starting up their venture then pursuing a career.
Founders are prone to pack
too much information
Every business, every service has a single common mantra that they follow - think like your audience. Here, the audience is a prospective investor. And an investor is always pressed for time.
A founder is like a doting parent. They gush over their children, and it's difficult for them to remain unbiased. Similarly, founders find it tough to prioritize information resulting in an information overload that is overwhelming for the reader. Ideally, the pitch deck narrative should convey the most valuable information about the startup concisely and objectively, influencing the investor to take action.
A pitch deck is not
just about numbers
Key research insights and statistics about the product are essential in a pitch deck. But just acing the numbers game does not make a successful pitch deck. It requires a story, one that will hold the investor's attention and appeal to their emotions. Telling a cohesive story requires intuitive design, crisp messaging, and highlighting vital aspects of the startup. Founders require that story to humanize their product and connect with investors.
Founders can not
afford to fail
What is the single biggest purpose of the pitch deck? To fast track the startup to the next round in the process – getting face time with an investor. With time being the most important factor, founders cannot afford to follow a trial-and-error method or spend time on multiple iterations. Nor can they send a hastily assembled pitch deck and risk losing prospective investors. Founders need to get it right at the first try with a proven, reliable pitch format and content to get ahead of the pack and drive conversions.
More and more founders realize the importance of using their expertise to the maximum - and their expertise lies in building a successful product. They are increasingly veering their time and efforts away from making a pitch deck that communicates effectively, preferring to gain a competitive edge by validating their product.
Startups need traction as soon as possible as their startup's entire trajectory could depend on those all-important three minutes of pitch deck exposure to the investor. It can even come down to a single decision-making slide that might make the difference between winning and losing.
The importance of storytelling in pitch decks is often underestimated. It pulls in your audience and creates an emotional connection, which is crucial.
Getting key messages across to the audience effectively and efficiently is the prime focus of a killer presentation. Are you connecting with your audience?